Hi Everyone...Ann Marie here with the winner of this week's prize and the Top 3, but before I announce the winners, let me say this weeks' "Ribbon and Lace" entries were just over the top! It was a very tough job to get down to only three! Thank you for participating in our challenge... Please pop back in ten minutes for this week's "Rockin Rubbah" challenge!
The winner, selected by Random.org, of the assortment of blue ribbons from
Crafty Ribbons
is...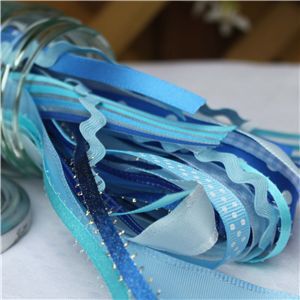 #30-Kym from Kym's Crafty Cards
Congratulations Kym! If you will email Rose at the
email address on the right sidebar
, she will sort out your prize.
And now, the Top 3 for this challenge, in no particular order, are:
#59 Sandy
What a beautifully colored image by Hannah Lynn, and such beautiful lace, ribbons and flowers to embellish her.
#77 Alyce
So stunning... the beautifully striking blues, flawless coloring and crochet lace, lace doily and ribbon make this card a show stopper!
#74 Monica
What a beautfully embellished vintage tag with gorgeous lace, ribbons, pearl lace and rhinestone studded crochet lace- the vintage image just pops with all the fab touches...
If you want to learn more about any of the winner's projects, just click on their name to visit their blogs. Congratulations girls, please grab our badge for your blogs!
xxx
Ann Marie